Brickyard Plantation, Mount Pleasant
History Hangs Over The Lowcountry like Spanish moss on heavy oak limbs, so perhaps it is not surprising to learn that Brickyard Plantation in Mount Pleasant has an interesting past. Built on the site of a working brick plantation, it has evolved into a stunning community of neighborhoods.
By the time construction began, only a few ruins remained of the old plantation, but, if you look carefully, you can still see traces of the past.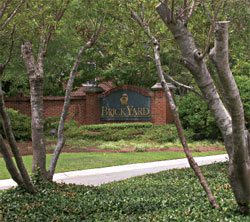 An eight-acre lake marks the area where the material for bricks was dug out.
A real estate agent said, "The old kitchen and another building and kiln are gone but there is still one kiln left. When you walk along the creek, you can still see where the brick was loaded for shipping."
The entrance to Brickyard Plantation is impressive and an indication that this is a well-designed, well laid-out development. Extensive landscaping only adds to the appeal.
Although there are approximately 850 homes on the property, the neighborhood design belies that density. Home prices range primarily from the mid-$300s to more than $2 million. The average home cost is around $550,000.
Residents enjoy amenities such as the elegant clubhouse, tennis courts and pool but best of all is the boat launch and floating dock on Horlbeck Creek. And that little bit of history that lingers along the creek bank.