RiverTowne Country Club, Mount Pleasant
Legends are getting to be almost commonplace at RiverTowne Country Club.
RiverTowne was designed by perhaps the greatest golf legend of all-Arnold Palmer. Another golf icon, Annika Sorenstam, hosts her own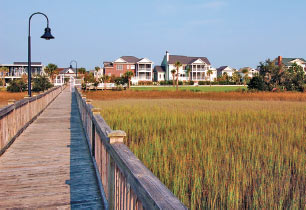 tournament at RiverTowne. Produced by Ginn Sports Entertainment, the tourney is one of the richest women's events on the tour.
RiverTowne has compiled an impressive resume since opening for play in 2002, earning an Honorable Mention among Golf Digest's Best New Courses. In 2004, it was the South Carolina Golf Course Owners Association's Course of the Year.
Situated off Highway 41, RiverTowne offers carts equipped with GPS systems, providing golfers with precise distances from their ball to the hole and other landmarks. From the championship tees, RiverTowne plays at a hefty 7,188 yards, but there are four other sets of tees and the course can be as short as 5,089 yards.
First-time visitors to RiverTowne might get the wrong impression about the course on the opening hole, a short par 4 that can be even shorter for those who successfully challenge the dogleg to the right. After that, though, the course earns its reputation, bringing the Wando River and Horlbeck Creek into play on 13 of 18 holes.
Like its designer, RiverTowne's finishing holes are legendary. Number 15, the longest par 4 on the course, is a daunting 490 yards from the back tees, with a large bunker in the dogleg. Those who intentionally avoid the trap at the right front of the green are penalized by a slope away from the hole to the left.
Number 16, a 533-yard par 5, lures players with the possibility of an eagle putt but punishes them with an array of traps and marshes and a fairway that grows increasingly narrow as it nears the hole.
The 17th, a 177-yard par 3, is exposed to the winds off the marshes lining Horlbeck Creek and the Wando River, placing a premium on choosing the right club and striking the ball with authority.
RiverTowne's 18th, touted as one of the toughest holes in the Lowcountry, is a windy 480-yard par 4. Players must hit a long second shot to an elevated green guarded by the marsh on the left and sand on the right.